Project Information:
Honoring Quincy Jones
Campaign Overview
DaimlerChrysler established the Behind the Lens Award in 2002 to recognize the achievements of minorities working behind the scenes in film and television. Previous recipients include directors Gordon Parks and Melvin Van Peebles; producer, actor and director John Singleton, and producer Reuben Cannon. In 2006 BazanPR was charged with elevating the program to the next level, increasing the event's visibility and prestige in the industry and maximizing press. Generating pre-event publicity was particularly challenging since honoree Quincy Jones was in China in the weeks leading up the awards ceremony and unavailable for media interviews.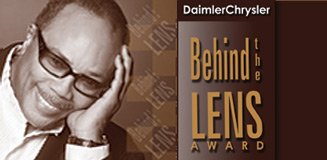 ---
Objectives
To elevate DaimlerChrysler's presence in the entertainment industry, particularly among minority audiences.
To raise the profile and prestige of the annual Behind the Lens Award.
To increase awareness for the event among prominent industry leaders and the general public.
Strategy
BazanPR implemented a number of changes to raise the profile and prestige of the DaimlerChrysler Behind the Lens Award. Moving the venue to the ballroom of the Beverly Hilton Hotel was the first step in positioning the award ceremony as a must-see-and-be-seen event within the industry, on par with the influential Golden Globe Awards, held in the same room. A weeknight red-carpet event replaced the more low-key Sunday brunch which had been the previous format. At BazanPR's suggestion, the event was shortened to two hours from its previous four-hour program and focused exclusively on celebrity guests paying tribute to Quincy Jones, in live, video, and musical presentations.
Once the elements were in place for a premier Hollywood event, BazanPR set to work on the essentials of event publicity, including a series of well-timed announcements: naming the honoree; the host, Tracee Ellis Ross, daughter of Diana Ross; and presenters. News was placed in magazine, print and online celebrity columns.
Results
BazanPR generated extensive publicity for the DaimlerChrysler Behind the Lens Award both before and after the event and reached millions of consumers through key media outlets, including celebrity media (Entertainment Tonight, Access Hollywood), business (Forbes), African American media (BET, Rolling Out Weekly, Jet Magazine), Hollywood and music industry trades (Variety, Billboard, The Hollywood Reporter), automotive trades (Car Buyer's Notebook, Auto Spectator), and countless websites and blogs.
To insure that the sponsor was not overshadowed by the excitement surrounding the honoree and celebrity guests (always a danger in high-profile personality-driven events), BazanPR kept DaimlerChrylser's name front and center by using tasteful yet prominent signage and working with media to insure that the sponsor's name was included in references to the award.