Project Information:
DaimlerChrysler Presents My Custom Style
Campaign Overview
The NAACP Image Awards were established in 1969 to celebrate outstanding achievements and performances of people of color in the arts and to recognize individuals who promote social justice. DaimlerChrysler, a longtime supporter for nearly 20 years, signed on as the presenting sponsor, further demonstrating its support of the arts and its commitment to diversity in the auto industry.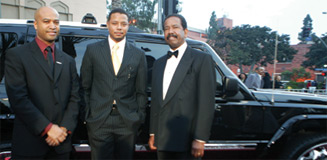 ---
The "My Custom Style" component of the PR program, developed by BazanPR, became a springboard for high-profile publicity for DaimlerChrysler. By tapping into its entertainment, business, and social media connections, BazanPR associated Chrysler vehicles with Hollywood trendsetters, such as Academy Award-nominated actor Terrence Howard.
Objectives
To create an event at the NAACP Image Awards to underscore DaimlerChrysler's support of the arts and its commitment to diversity in the auto industry.
To maximize DaimlerChrysler's sponsorship of the NAACP Image Awards by generating extensive media coverage for the company and its diversity initiatives.
To position DaimlerChrysler as an industry leader in its commitment to increasing diversity in the field of automotive design.
Strategy
In just over two months, BazanPR created and executed a multi-platform public relations program that achieved all of DaimlerChrysler's strategic objectives. DaimlerChrysler retained BazanPR in late December to implement My Custom Style. By early January 2006, the agency secured a commitment from Academy Award-nominated actor Terrence Howard (Hustle & Flow, Ray, Crash) to work with Chrysler Group's lead designer Ralph Gilles (lead designer of the popular Chrysler 300 model) to customize a 2006 Jeep Commander that would be featured on the red carpet of the nationally televised 37th NAACP Image Awards in February.
The announcement, made at a press conference in January attended by Howard, Gilles, and other top DaimlerChrysler executives, generated extensive media coverage in mainstream and minority media, as well as automotive trade journals and business press.
The actor worked collaboratively with Gilles to create a one-of-a-kind vehicle for the company's My Custom Style program featuring custom seats and enhanced media components. To unveil the vehicle to the media, BazanPR arranged a press conference shortly before the awards featuring Gilles, Howard and DaimlerChrysler's SRVP, External Affairs Public Policy, Frank Fountain. Once on the red carpet of the nationally televised awards show, celebrities and guests posed for photographs in front of the Jeep Commander and admired its elegant and unique modifications.
Following the awards, the customized vehicle, bearing Howard's signature on the car's exterior and interior, was put up for bid on eBay. The announcement of the auction received prominent placement in mainstream and minority media. With proceeds from the auction, a scholarship fund in the name of DaimlerChrysler and the NAACP was established at the College for Creative Studies (CCS) in Detroit for a minority student to study automotive design. DaimlerChrysler also made a matching donation to the scholarship fund as well as to the Settlement Music School, a nationally recognized program for minority students studying the arts in Howard's home state of Pennsylvania.
Results
BazanPR generated extensive national TV, radio, print and web exposure during every step of the program. National television coverage included the TV Guide Channel, E! Entertainment, and the Associated Press wire service, which resulted in extensive print pickup.