Project Information:
Theatrical Publicity, Academy Award and National Broadcast Campaigns
Campaign Overview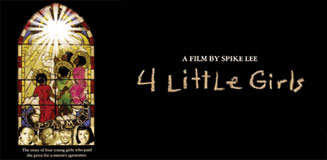 BazanPR was retained by HBO to coordinate a national media campaign surrounding the HBO premiere of Spike Lee's first feature-length documentary film, 4 Little Girls.  The film is a personal and moving account of the 1963 bombing of a Birmingham church which killed four black girls, a defining moment in the civil rights movement. Unlike most documentaries which are produced for either theaters or television, 4 Little Girls was released both in theaters and on HBO. The challenge was to keep the film in the public eye for nine months, from its theatrical release in June 1997 to its television premiere the following February and through the Academy Awards in March.
---
Objectives
To generate awareness and build an audience for the film among movie audiences and television viewers.
To create awareness among film critics and to generate critical acclaim among influential critics, tastemakers, and voting members of the Academy.
To generate pre-Oscar publicity leading up to the Academy Award nominations and through the presentation of the Awards.
Strategy
Setting a precedent for what would become a common approach to publicity for high-profile programs, BazanPR implemented a series of limited theatrical engagements for 4 Little Girls. The awareness generated by the theatrical releases would later help build a television audience when the film premiered on television.
The 10-market release began with a two-week sold-out run at New York's Film Forum. Building on the success there, the film was slowly rolled out in other big cities, including those with large African-American populations, generating positive word of mouth in each city before ending in Los Angeles.
To build the largest audiences possible, BazanPR focused on group sales, reaching out to traditionally black churches, youth groups, and teachers scheduling field trips. A scholarship in the name of the four girls killed in the attack was established with net box office receipts.
When the FBI reopened its investigation of the Birmingham bombing on the day of the New York release, BazanPR arranged a press conference for director Spike Lee that same day, resulting in additional extensive national publicity to kick off the run.
BazanPR was relentless in its outreach to film critics and other influential film industry opinion shapers and the film was on numerous lists of 10 Best Films of the Year including Joel Siegel's for Good Morning America . When 4 Little Girls was nominated for an Academy Award, a new round of publicity followed building buzz through Oscar night.
Results
The far-reaching media exposure BazanPR created for the release of 4 Little Girls changed the way important TV documentaries are marketed. The limited engagements in key cities and BazanPR's decision to promote group sales among local African American organizations insured sold-out runs in important markets. The theatrical releases resulted in prominent media placements in national outlets such as Good Morning America, CBS Early Show, Charlie Rose, The New York Times, USA Today, Los Angeles Times and local outlets including network affiliates in major markets, NY Daily News, Newsday, Orange County Register, and LA Daily News among others.
BazanPR maintained media momentum by capitalizing on the opportunity presented when the FBI reopened its investigation of the bombing. Its rapidly arranged but well-attended press conference for Spike Lee resulted in additional coverage in national and major NY regional media.
The film's critical acclaim was publicized in the media and 4 Little Girls was included among 10 Best Films of the year in outlets including Good Morning America. Buzz generated by this extensive outreach strategy is widely regarded as having contributed to the film's Academy Award nomination.