Project Information:
Ben & Jerry's
Campaign Overview
To boost sales at their underperforming Harlem ice cream store, Ben & Jerry's retained BazanPR to help build traffic. Market research conducted by BazanPR indicated socioeconomics as well as location were the primary reasons for low store activity. The firm undertook a series of promotions to build awareness for the store among community residents and to position it as a go-to establishment frequented by trendsetters.
---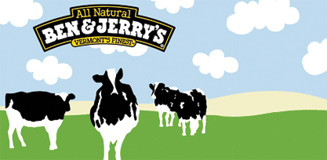 ---
Objectives
To generate awareness for Ben & Jerry's Harlem location particularly among young consumers.
To build traffic at the store, resulting in improved sales.
To position the scoop shop as a "cool" place for celebrities and consumers alike.
Strategy
BazanPR used its ties to the African-American community in Harlem to generate awareness-and excitement-for Ben & Jerry's Scoop Shop.  Using a series of radio promotions, product giveaways, and poster campaigns, BazanPR put the formerly struggling store on the radar screen of community residents.
The firm used their film industry connections to acquire movie-related posters, T-shirts, hats, and CDs as well as autographs from celebrities and NBA players for in-store giveaways.  Posters featuring local celebrities eating Ben & Jerry's ice cream, including hip-hop impresario Russell Simmons, New York Mayor David Dinkins, director Spike Lee, and radio personality Hal Jackson, renowned as the Voice of Harlem, were sniped throughout the community.  Photos were also featured on the store's Wall of Fame, lending a mystique to the establishment.  Promotions were arranged with Hot97-FM, New York's number-one hip-hop radio station, including live remotes from the store.
Results
Thanks to extensive free advertising generated by live radio promotions, traffic at Ben & Jerry's Harlem Scoop Shop increased significantly, particularly among the store's target teen and college-aged demographic.